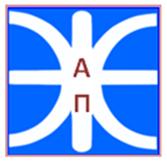 E t h o C r a c y S u g g e s t i o n s
Index
N.B. This is only a page of various tentative suggestions related to EthoCracy, while our main official page is the following on the official subject of EthoCracy. The main EthoCracy is the long term objective of the PythagorArium. Its short term objective is the new type of holistic education called EthoPlasìn. EthoCracy is a third-generation type of democracy, one that went from Democracy to Meritocracy, and then from Meritocracy to EthoCracy. This webpage on suggestions related to EthoCracy is particularly long and complex, and describes, further down, after some introductory comments, a series of 30 major specific reforms, numbered from 01 to 30, that would have to take place, cumulatively, as a package, in order to transform an ordinary democracy into a Meritocracy as a first step, and then into an EthoCracy. Preceding this package of 30 reforms, for a quick overview, there is a short nutshell section on the Essence of EthoCracy that groups the main reforms, and gives them a brief description, under seven leading characteristics, with appropriate links to the full text of the reforms mentioned for more complete information.
Thus:
- For only a quick overview of the suggested package of reforms so far, read the Essence of EthoCracy.
- For the official page go to EthoCracy.
- To jump the introduction of this page and read sequentially the detailed analysis of the 30 cumulative reforms, go to the Package
- To trace one of the 30 suggested reforms quickly by title, the catalogue is the following:
EthoCracy is really a third-generation form of democratic government
DemoCracy --> MeritoCracy --> EthoCracy - Meritocracy, from an ethocratic point of view, as an improvement to the original concept of democracy, is essentially a "Democracy that is direct and transparent, attributing social benefits and positions of power openly, and strictly on a basis of merit". As the Just Balance for the rights, duties, positions and benefits corresponding to the different nature of each citizen, Meritocracy is the short term political objective of EthoPlasìn, as a good midway step towards full EthoCracy. However, if Meritocracy improves democracy, it maintains essentially the present form of democratic

government institutions, and the same parliamentary system we find at the moment in most western countries. In turn, EthoCracy is the long term political objective of EthoPlasìn, and EthoCracy does not only improve democracy through the application of more merit, with regards to the attribution of social benefits and positions of power, but also involves drastic structural changes of the constitutional state powers, all intended to bring about increased information transparency and accountability, strong ethical values, more efficiency, least possible corruption, and better social justice. These EthoCratic changes happen in government institutions (to render them more efficient), in social values (to render them more responsive to the merit of each citizen, and to be the reflection of a better civic decorum) and in philoecosophical concerns (to promote a better sense of Planet Oneness Responsibility).
Democracy - Democracy, as we know it today, in most countries, is distorted, sick, and in an advanced state of impotency, not to say imminent chaotic collapse, in many, if not most, important countries. More than faulty or outdated however, it simply is not/not democracy anymore, certainly not democracy as it was first conceived by Ancient-Greece. It is only really a demagogy, or a bastardized deviation of the original concept of democracy invented by Ancient-Greece, which was much closer to what we would call today a "Direct Meritocracy" or more simply a "Meritocracy". In the last few years in particular, it has clear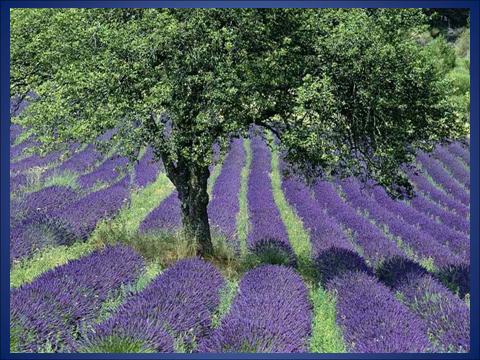 ly become an ugly combination of a financial Plutocracy, as an Oligarchy, serving the "highest" interests of the rich commanding class, and a populist Clientocracy, serving the "lowest" interests of the poor mass-voting base, in order for the politicians to get more of the popular vote. From this point of view, what we call "Democracy" today is only an illusion of democracy: citizens are given the impression that they have power, through their votes, but their votes only serve to push into positions of power officials who, once elected, will pretty much do whatever they want, and serve mainly their own interests and sense of power. That type of democracy is certainly completely incapable of resolving the most serious modern problems of most countries, especially from a civic or an ethical point of view. Most of the time, this demagogical monster takes the form of a huge bureaucracy that is grossly unnecessary and, because of its size and secrecy, is wide open to mercantilism, corruption, unfair privileges, injustice, inefficiency and political nepotism: something one should probably call a Corruptocracy. Even from an economic point of view, most of the time, it is now an Impotent National Plutocracy, incapable of playing any leading national role anymore, and hardly capable of passively responding, weakly and/or wrongly, to an ever more Powerful Global Plutocracy. The National Plutocracy is subdued and subjugated by the Global Plutocracy that is well on its way to implement a worldwide Creditocracy leading fast to a Debtocracy and, in the end, to a complete Slavocracy. Worldwide this time! In its historical perspective, this phenomenon is a fourth-type of slavery, much more sophisticated than the 3 previous ones, serving much better the interests of the current 'masters', as these new masters do not even have to maintain the new type of slaves anymore, like they used to have to do, completely or partially, in the first three types of slavery. And slavery, extended to the majority of the citizens of a country, be it 'only' a financial slavery, is certainly not the reflection of a 'democracy'. In the meantime, and as a result, on the side of the dominant minority, ignorant or vicious national politicians, foolish international bankers, and incompetent bureaucrats worldwide, get unfairly, not to say dangerously, into positions of power, with huge and undeserved privileges of all kinds, attached to themselves, or granted to their nepotistic clientele, while most citizens under their command suffer from many cascading forms of social and economic injustice. Merit is totally absent from that scenario, except occasionally, and in a purely nominal and accidental way. Ethics are only a theoretical concern of few idealistic individuals who occasionally manage to bring the subject up for discussion in the public opinion but with practically never any concrete positive result. The new type of democracy proposed by EthoPlasìn, called an EthoCracy, is much closer to the original concept of Ancient-Greece, as a kind of Directocracy, from which Meritocracy sprouts much more naturally, and that can more easily prevent, to a great extent, the worst aspects of modern democracies, like political corruption and financial slavery. Some of this is explained in more details in few of the reforms of the Ethocratic Reform Package mentioned further down, like the first two reforms talking about the new NEVoC voting system (and Voting as a Duty instead of only a right), and the reform mentioned further down: EthoCracy as Direct Democracy Pushed to its Limits. That EthoPlasìn concept is EthoCracy, a form of government that puts things into better order, correcting and improving most of the mess delivered by most modern democracies, in particular with the application of a new managerial culture based, as per the EthoPlasìn logo, on Better Decorum, More Merit applied through a new Social Olympic Spirit, and a sense of Planet Oneness Responsibility. EthoCracy fosters excellence on the basis of the capacity of each citizen, ensures only the best ones get into positions of command, or at least into positions of power corresponding legitimately to their best commanding qualities, and ensures that everyone is rewarded in the end on the basis of their own merit. In principle everyone serves others and oneself, each at a just level, with no form of unfair slavery nor any major injustice.
The beautifully ordered rows of Lavender, up to the left, symbolize the improvement of Meritocracy over Democracy. In an EthoCratic country, civic life is based on the holistic education of the human Tetractys and the outmost importance of meritorious conduct, and consequently, even if things and citizens may still not be perfect, they tend to express themselves with better order, manifesting a healthier basic living harmony, like the above 'educated' rows of lavender, contrasting the wild growth nature of the civic environments of practically all contemporary democracies. Lavender, with its beauty and purification power, is one of the EthoPlasìn Symbols of the vegetal kingdom.
MeritoCracy and EthoCracy (SOS) (EOS) (COS) (EthoCOS) - Both MeritoCracy and EthoCracy, as conceived by Ancient-Greece, albeit with the single name of 'Democracy', are based on a spirit of community life that is much better, or much more meritocratic, than the one animating contemporary democracies. In the original concept of Ancient-Greece, Democracy was in terms of every citizen being able to express freely and directly his opinion in public, and every eligible citizen being able to express his actual vote directly instead of through a representation (even if not all citizens were being able to provide a decisive vote for important decisions) and render the relevant decisions directly executive, without the intervention of any meaningful bureaucracy. MeritoCracy or EthoCracy, corresponding to what Ancient-Greece called simply 'Democracy', was based on a type of culture that was very close to the spirit that animated the Olympics during that same period, on something that we call the Social Olympic Spirit (SOS) and Ethical Olympic Spirit (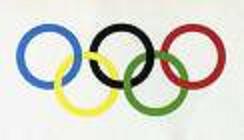 EOS): equality at the starting line and in front of the standing rules (law) during the competition, but with only the very best ones being able to reach the top, and everyone reaching the just level of his own merit. This spirit, when applied well in all sectors of public life, becomes a Country Olympic Spirit (COS). Modern democracies are managed wrongly because they assume, and push, in order to get more votes from the widest possible base of the population, for a flat, fake and illusionary equality of all citizens, and consequently they attempt to give unfairly an equal lot (or maybe rather an equal "bit") to everyone independently of merit. By the same token, through an unnecessarily huge bureaucracy, they manage to allow, grant, and tolerate blindly, huge privileges to a caste that gets into positions of power without merit, nor ethics, in most cases, in particular in relation to the well hidden plutocratic financial elite. Merit and ethics are baffled all the way in the process. Basic flat equality of human beings is not only a fake objective, but even pure fiction, as citizens are born far from equal. Mother Nature does not make them equal. Some are more intelligent. Some have great talents, while others have none. Some are more beautiful, or physically stronger, while others are weaker. Some are more dedicated to achieving excellence, while others are more interested in just having a good time while it lasts, independently of the consequences to others, let alone to themselves in the long run. Some are better equipped for intellectual work while others are better equipped for manual work. In a Meritocracy, and even more so in an EthoCracy, merit and ethics have a fundamental importance in achieving success, and in compensating fairly all citizens, on the basis of their best natural talent, personal efforts and honest dedication, in particular in making sure most deserving persons get into positions of most power with, fairly and inevitably, some legitimate privileges attached to their more important role. Strangely enough, we already know this EthoCratic principle, and we apply it very well, spontaneously, even without questions, in the field of national sports. In the national sport of a country for example, be it soccer, football, hockey or baseball, only the very best athletes get to the top, and get rewarded accordingly, on the basis of their natural talent, efforts and best honest dedication. All the others find their right place, or niche, at the appropriate level that corresponds well, and fairly, to what they are, what they did so far, and what they can offer. Nobody finds this unusual or unfair in national sports. In fact the ones located in the lower teams not only do not feel unfairly treated but, most often, become the best fans of the ones at the higher levels and, as such, everyone is quite happy, without any feeling of any real injustice. The lower ones might be sad they have not reached the top, but they do not feel unfairly treated. They accept their lot, and wish best luck to the better ones. It should be the same in all good democracy, and in all fields of human and social activity, certainly so in an EthoCracy. EthoCratic governments and countries try to run themselves on the basis of this same kind of Olympic spirit. This is in fact what EthoPlasìn calls SOS (Social Olympic Spirit), as one of the founding elements of a MeritoCracy and, in particular, of an EthoCracy. In an EthoCracy the SOS is complemented by the EOS (Ethical Olympic Spirit): merit + ethics. This combination is sometimes called SOSES (SOS and Ethical Spirit) in the EthoPlasìn environment. An EthoCracy is a society where merit, ethics, SOS and EOS all together, play a fundamental role in managing the country and giving a fair lot to each citizen. At national level, as a country, in fair competition with other countries, this SOS becomes COS (Country Olympic Spirit). A society, or a country, containing these elements combined could also be called an Olethocracy (combining parts of 3 words: Olympic, Ethics and MeritoCracy). A more simple and elegant way to call it might be AristossoCracy (to avoid the emblematic word of Aristocracy), or Aristarchy (a county managed by the 'excellent ones', or the 'accomplished ones', from the meaning of "Aristos", or "άριστος" in Greek). Another alternative could be a KalloCracy, from the meaning of 'Kallos' ("κάλλο": harmony and beauty of body and soul together, in terms of both stature and behavior combined). On the basis of the name of this website, and all the concepts of the new reforms of this page in particular, we have preferred to call it simply "EthoCracy". This is certainly the spirit that animated the inventors of 'Democracy' (which again was, at the time of Ancient-Greece, much more a Meritocracy, even an EthoCracy, than a democracy as we know it today, deflated into a demagogy, to say the least), and the inventors of the Olympic competitions: a social interplay based on a meritocratic emulation of the best ones, and where each one wins fairly, and acquires a fair lot, at his proper level, on the basis of his talent, his efforts and an application of clear and simple ethical and meritocratic rules. Thus the important page of this website on the Pythagorean Man Emulation and the formation of the Tetractys, in order to achieve the Victory on the Minotaur. This is 'Social Olympic Spirit' and 'Ethical Olympic Spirit', and hopefully 'Country Olympic Spirit'. This is SOS and EOS. This is SOSES. This is hopefully also COS at national country level, allowing not only best performance of citizens within the country, but best ethical performance in competing proudly with other countries, culturally and economically, for offering the world the best of their talents as an EthoCOS (Ethocratic Country Olympic Spirit). This is the foundation of EthoCracy.
This EthoPlasìn spirit in its various forms, as SOS, EOS or COS, implies many important changes in the manner a society functions and in the way a government manages a country. In particular, with the advent of the era of the Internet, of powerful database management technology and of instant worldwide communications, all sensible persons can legitimately ask themselves the three following questions:
Who needs huge bureaucratic governments, with 'elephantic' national ministries and bilateral embassies worldwide? Who needs monstrously inefficient and corrupted parliaments with hundreds of super-paid ignorant and incompetent members in particular? Could not a new form of e-Democracy, like an EthoCracy, with complete transparency, full accountability, merit, ethics and database management efficiency, be able to eliminate most of the burden of bureaucracy, prevent practically all corruption, expose and avoid the bulk of nepotism, and respond much faster to all the needs of its citizens?

Why should not citizens be better in charge, able to express their will more easily, through a more efficient and much quicker form of voting, and command practically in real time the application of merit and ethics in their society, better than through slow, heavy and costly political elections that require months of preparation, weeks of absurd electoral campaign, and massive amounts of public money literally sent uselessly down the drain?

Why should not citizens enjoy at least MeritoCracy, and have a chance to get their fair lot on the basis of their best talent, personal efforts, and honest dedication, instead of on the basis of nepotistic relations, or of the financial status of their family? Why should not citizens enjoy even EthoCracy, with the best application of the ethics? Why should not all citizens be able to obtain their fair lot, even if it involves inevitable limitations to some, and legitimate privileges to others, in particular to the best ones, like in sports, and be happy about it, if they also know that it is based strictly on merit, and that honest attempts are made to recuperate the most unfortunate persons, or the weaker elements of citizenship, and to compensate adequately for some of their most serious mistakes or inadequacies?
EthoPlasìn Political Objectives - EthoPlasìn is not currently affiliated to any political party of any country in the world, but it nevertheless has clear political objectives. From this point of view, it is useful to peak here at what we said in our page Description In More Details regarding its Political Objectives.
EthoPlasìn Ultimate Objective - The advent of EthoCracy is the fundamental long-term EthoPlasìn political objective. If Meritocracy is its short term political objective, what EthoPlasìn is proposing, as its long term political objective, is a new form of modern democracy, a kind of powerful e-Democracy, called EthoCracy, based on SOSES (a combination of SOS and EOS), top available modern technology, and in particular the so-called EthoCracy Reforms Package involving the 30 government reforms mentioned below. This involves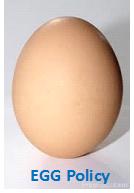 drastic changes in our forms of government, rendering them lighter and more efficient, and an improvement of our approach to the subject of social justice. EthoPlasìn will pursue this long term political objective, along with the recognition of its EthoGloso auxiliary language. The advent of a world with the implementation of both EthoCracy and EthoGloso, in the same environment, forms what EthoPlasìn calls its EGG (EthoCracy & EthoGloso Governance) Policy. Implementing a fertile EGG Policy, for the birth of best possible Civitas Management, in as many environments as possible, is the ultimate objective of EthoPlasìn, to be pursued worldwide, through the PythAssociation, its association of members formed on the basis of the best holistic EthoPlasìn Education and the "Critical Mass" of more disciplined individuals it will eventually form. This however has nothing to do with any kind of hegemony or ideology. The EGG Policy, and the spirit at the base of EthoCracy, along with its reforms, its objectives and its new Civitas Management life-style, all stem from the DEMONE values of the EthoPlasìn logo: "Better Decorum, More Merit and Oneness Responsibility". These DEMONE values themselves are based on the philosophy of Ancient-Greece, of Pythagoras and Plato in particular. That philosophy gave the world, for quite a few centuries, what can be considered the best of what one can call "Civilization", influencing the "invention" and the implementation of the best type of human education, and consequently the best form of meritocratic democracy. This is the meaning of the Return Of Philosophy, mentioned in the very title of our opening page and, as explained in the first section of that page, the importance of the resumption of the first aspect of that philosophy, that was a "System of Fundamental Values to Guide Human Living" as opposed to only the "Formulation of Concepts to Help Understand the World", like unfortunately modern and contemporary philosophy have reduced themselves doing in the last 400 years, in particular since 1968. Thus the need for the return of that type of great philosophy and, as seen in another vital page, the need for what we call the Pythagorean Man Emulation and the holistic formation of the Tetractys in our contemporary education, and in our Civitas Management, like both EthoPlasìn education and EthoCracy government reforms want to achieve. This Return Of Philosophy should be accompanied by a Return Of Democracy, that is a return of real Democracy as founded in Ancient-Greece, that is as a combination of "Direct Democracy & Meritocracy".




Essence of EthoCracy in a Nutshell
To put it in simple terms, an EthoCracy is essentially a direct and subsidiary democracy, founded on the 5 sacred principles of transparency, merit, family, nationality and decorum, with a powerful executive, but with an even more powerful electorate. These 7 characteristics are:
1- Directness: EthoCracy is direct in the sense that voters have an absolute power over the government, voting easily and safely like never before, through NEVoC, and government actions are tied absolutely to a winning Four-Way Binding Electoral Program: the Executing Power can only be Elected at Absolute Majority, and can only execute what was in its electoral program, all of what was in its electoral program, and execute it all with only the resources explicitly mentioned in its electoral program. Nothing else, nothing more, and nothing less, based on a Fully 4-Way Binding Electoral Program!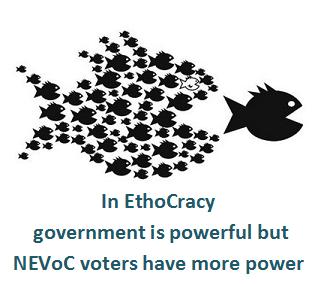 This characteristic of directness also implies a less invasive role of Political Parties, but without reducing the vital importance of their role, albeit within more delimited parameters.
2- Subsidiarity: EthoCracy is subsidiary in that its new type of constitution includes an unusual constitutional annex, called FTL, amendable more easily than the constitution itself, but that nevertheless states broad constitutional principles that have to be respected in all laws and regulations of the country, and consequently reduces the need for an extensive regulatory legal system on all aspect of the life of the democracy. The FTL is quite extensive, and covers broad issues but, by the same token, it prevents the need for the formulation of thousands of useless laws and regulations. As long as people and corporations respect the FTL, they are pretty much left undisturbed, with as less legislation as possible, except if a CID (Civitas Interest Defender) intervenes, or even a private citizen through a PJM (Private Justice Mediator), when they appear not to be respecting its guiding principles.
3- Transparency: The new type of constitution of an EthoCracy, called a Syntagma, includes a 4th and a 5th power of the state, the Informative Power, that supplements the 3 traditional ones (Executive, Legislative, and Judicial), and the Corrective Power. All branches or institutions of government, at all levels, are forced to a degree of Full Transparency never seen before in any democracy, through the intervention of this new state power, both with regards to the public and private sides of activity in the country, and immensely facilitates it strong Zero Tolerance policy on corruption. The same principle applies to the private sector when it affects people in general, like it is eminently the case with the new banking system managed through a NAMA (National Autonomous Monetary Authority) on a basis of transparency and full responsibility, and a revolutionary NoNoNo financial system, with No borrowing power, No debt and No surprise taxation or legislation. This characteristic of transparency also implies a Separation Between Politics, Media and Money that is better and firmer than ever before in any type of modern democracy.
4- Merit: EthoCracy is centered on merit, in that citizens do not only have rights, but also duties, with each right having a corresponding duty, and the rights and benefits of the state are distributed, or excluded, on the basis of the respect of this inseparable combination of rights and duties. On the other hand, it brings more easy and accessible meritorious justice to all citizens, with the creation of a new system of private justice, through the role of a PJM (Private Justice Mediator), that replaces in a subsidiary way the expensive public-court justice, and assists fairer tax collection on the part of independent professionals, and easier resolution of personal and family problems. It also brings better recovery to citizens who have made mistakes, by the creation of a brand new system of Prison Farms, offering both better rights and stronger duties to all prisoners based on their meritorious behavior.
5- Family: In order to facilitate the maintenance of our best values, and the growth of children accordingly, as future generations, the traditional family structure of society, in terms of legally married couples, is highly promoted by an EthoCracy, but, at the same time, highly facilitated and incentivized in all its aspects, like never before in any democracy, with more fairness to the parties involved, including through GCB (Growing Children Benefit) in the context of reunification of Extended Family Units (EFU) in the same environment, and the development of privileged EFB (Extended Family Business) as much as possible.
6- Nationality: EthoCracy is focused on nationality, not because it is nationalistic, in the bad connotation of the word, but in that it will always give clear priority, in distributing its Chartered rights and benefits, to the citizens and families who have the nationality of the country. It also reinforces the sense of good patriotism, and legitimate pride for nationality, through the institution of a new PPS (Paramilitary Patriotic Service) that replaces the old type of military service. In the same spirit, the constitutional FTL forces the retention of a NAMO (National Majority Ownership) on all natural resources, the institution of a National Goodness Code (NAGCO) for all commercial products, and a strict control on national monetary contributions provided to all NEIO (Non Elected International Organization) entities.
7- Decorum: EthoCracy has a fundamental objective of improving the living quality of all our environments, be they civic, economistic, ecological, cultural, political or institutional in general. This means better national health through the help of AHM (Alternative Holistic Medicine), better holistic education Schools with obligatory civic education, less micro-criminality and neater social environments with only Legal Immigration and least possible multiculturalism. This objective is also attained through other reforms, like the construction of more elegant and ecological NECA suburbs, the national ACE (Award Civic Education) system of encouragement and reward for good civic education, the role of Reinforced Consulates abroad controlling the inflow of illegal migration, and the new OppositArium system giving a chance of full protest and opposition to government action, with more visible and better impact, than never before, on the part of all protesters, even at national level, pushing Democracy to its Limits, and thus will less need of, and less tolerance for, violent destructive protests in public streets.

N.B. The package of 30 ethocratic reforms that follows, to transform a plain democracy into an EthoCracy, in order to be understood correctly, and to achieve its full potency, has to be read on the basis of the above considerations and, again, taken as a real unitary transformation, as cumulative reforms, as opposed to as separate individual reforms.




EthoCracy Reforms Package
The following package involves 30 fundamental and cumulative reforms (including, as the final one, the implementation of the use of EthoGloso as an auxiliary language at national level). They all take full advantage of the top technology available today. To be understood and assessed properly however, these reforms have to be read and taken as a package, as opposed to as individual reforms. These reforms want to improve Civitas Management, in a similar manner that Plato wanted to change it when he wrote his Republic, and Aristotle wanted to improve it when he wrote his Politics, some 2300 years ago. Like them, in front of our own audience, considering today's dire need for change, and the necessity to take the following reforms as a package, we feel strongly we should borrow one of Aristotle famous logos in front of his own audience, after expressing his own set of rules for change: "Accepting something different is not an option":
«Το μη ενδεχεσθαι αλλως εχειν»
From a National Perspective - In EthoCracy, all powers are more balanced and bring more justice to all its citizens through more merit, better ethics, improved decorum, strong philoecosophical values and a sense of planet oneness responsibility. In particular, as seen above, its constitution has become a Syntagma that transforms the arrangement of the state in 5 separated powers, instead of the traditional 3, as a new "Pentas Politica" providing more True Information, and fuller transparency, on all activities of the state, at all its levels, thus guaranteeing best possible democracy, least possible corruption. The 4th power, the InformArium, sits at the very foundation of an EthoCracy. In addition, there are no more traditional parliaments nor traditional government institutions as we know them today. There is not even anymore a traditional type of opposition: no more traditional ignorant and incompetent parliamentarians or senators being elected, thus the imposs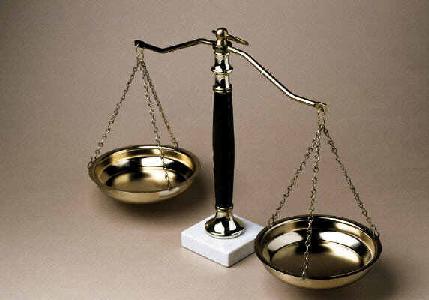 ibility of such individuals to make purely obstructive opposition, or change political party during a mandate, and possibly force this way the early fall of an otherwise perfectly performing government (Executive Power) on the way to realizing its exact Four-Way Binding Electoral Program. Electors only elect a government, or better, a team of executing leaders, at national and local levels, with an absolute majority, and these same electors have easy and complete power over these elected leaders. Electors thus elect a President with his program, his team of ministers and his list of local Governors: the 'Executing' Power. Electors do not elect parliamentarians nor senators in the traditional way anymore. Electors also make sure that the Executing Power is in a position to manage and fulfill its fully Four-Way Binding Electoral Program, by electing it at absolute majority, not because the government will need any majority vote in any parliament, but as a symbol of the clear will of the majority of people to have the winning Four-Way Binding Electoral Program executed without useless obstruction. There are no more local elections, only national ones. This does not only mean simplification, but also an immense reduction of electoral costs, not to mention the reduction of electoral clienteles and their related corruption. The elected president in turn appoints all his local Governors at lower levels (provinces or municipalities) from the list of candidates known at the time of his election campaign. Opposition still exists however and, in its new and stronger form, democracy is even much better served by it. In addition, there is a new constitutional Informative Power that controls the government much more independently than traditional accomplice oppositions in whichever form they may exist. The new Parliament of Experts, the ExpertArium (the Legislating or Legislative Power of the new Syntagma), deals with new legislation in the most effective way, entirely at an expert level and strictly tied to the winning Four-Way Binding Electoral Program. The National Public Forum, the new OppositArium (ex Senate) plays the role of an opposition, but much better than now, in particular when combined with the new Informative Power of the new Syntagma. In an EthoCracy, opposition can be expressed by any citizen, chosen by any pressure group, or by competent experts, all better informed than ever before through the True Information provided by the new Informative Power, but without having the possibility of paralyzing government efficiency through obstructive political opposition, while that government is only clearly fulfilling its Four-Way Binding Electoral Program. Such opposition only has the possibility of influencing the public opinion, on its own or with the help of the new Informative Power, and thus influencing both the next annual confirmation of the current government and influencing also the vote for the following general election of a new government team. The Judicial Power in turn only applies the law and verifies its constitutionality when requested by an interested party; It clearly has no chance of interfering proactively, or unduly, in any way, certainly not publicly, with the Executing and the Legislating powers. There is thus a real and complete separation of the 5 powers to an absolute degree, certified by the constitution. Finally, the new LeaderArium (the council of ex Presidents and ex Prime-Ministers) has an important conciliatory and consultative role for counseling all the new institutions and resolving their potential conflicts. In the meantime, combining all the above EthoCratic reforms with the new structure of government institutions, all sectors of the civic life are better informed and better administrated, with more selective schools (thus much less unemployment), more stable families (thus more equilibrated children for future generations), improved handling of criminals (thus much better civic environments down the line), no clandestine or illegal influx of migrants (thus better regular immigration and much less micro-criminality) and an engaging set of philoecosophical concerns and initiatives affecting all new legislation (thus better living conditions on our beautiful Earth, based on a stronger collective sense of Planet Oneness Responsibility). All citizens do, in the end, get more justice and a fairer personal 'lot' from improved institutions, on the basis of their merit, and enjoy better environments from a civic, institutional, ecological, political and cultural points of view. This is more than flat responsive representative Democracy and even better than proactive Meritocracy: this is EthoCracy.
From an International Perspective - UN to UEN - From an international perspective, the first thing to do to respect the EthoCratic spirit is to go from UN to UEN. In light of all the above government reforms taken as a package, we have to go from a "United Nations" organization to a "United EthoCratic Nations" organization: from UN to UEN! An EthoCratic reform at national level, in a growing number of countries, on the basis of what we call the EthoCracy Reforms Package, definitely cascades the need of corresponding reforms at the level of all the main international organizations. The UN (United Nations) for example is at least as corrupted, and certainly more inefficient, than most of its democratic and undemocratic member nations. It is clearly totally inefficient and incapable of resolving most serious world problems. In spite of this, its caste is full of undeserved and very costly privileges. In many of its initiatives it is dominated by too many representatives of undemocratic, or even dictatorial, countries who are allowed to scandalously sit on, or even head, important commissions like the one on human rights, the one on the status of refugees, or the one on the status of women. In this respect, the present UN is literally and plainly "ridiculous", with no better word to qualify this inacceptable behavior, and a careless, if not often destructive, super-national structure. The same kind of comments can also be made, mutatis mutandis, about most other international organizations, like the EU, FAO, UNHCR, UNESCO etc., not to mention other less obvious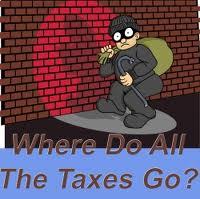 ones, like the Arab League or the African Union. Even the top commanding HQ of the most important churches or racial organizations would deserve similar comments, like the World Council of Churches, or the World Jewish Congress, all factually known for all sorts of abuse of power on simple people internationally, in light, or in spite, of their non democratically elected mandates for the most part. Similar comments can also apply to the biggest financial organizations, like the World Bank, the FMI and the WTO. In addition to ridiculous initiatives, similar to the ones of the UN mentioned above, they also all constitute, and serve furtively, a caste of individuals, useless and incompetent for the most part, with huge salaries and highly inadmissible privileges, not to mention their too often hidden agendas, all at the expense of the poor citizens who pay the taxes of the nations who finance them, or of the nations they have contributed to indebt. A very good expert literature exists on this subject and consequently it is useless to add more details on this webpage. To return to the subject of the UN, thinking of excluding undemocratic countries from the UN, or ask them to quickly become democratic in the short term, is an utopia; but exclude them for this sole reason would also be a mistake. For good or for bad, they are deeply involved in world affairs and consequently they must also be brought in at the important discussion tables, and involved in the activities of an organization created precisely to resolve world problems. Certainly, as a starting point, the undemocratic member countries of the UN must not be allowed to hold any leading position in the type of UN commissions mentioned above, having to do with citizens rights, until they at least commit themselves formally to pursue long term objectives of democracy and they demonstrate, through their work and opinions in other important commissions, that they are engaged seriously in a definite process of gradual democratization. As for the democratic countries however, the situation is not much better. Most people will also admit that simple democracy, in the deflated way we know it at the moment, in most of the so-called democratic countries of the western world, is not either without terrible flaws. To name only the main problem, rampaging political corruption is nothing but endemic, and consequently taxation is way exaggerated in order to palliate for the revenues "lost" in private pockets and in various banks of complacent countries generally known as fiscal paradises. This causes incredible damage and injustice to the citizens of these democratic countries that are sometimes not less unfair than the damage and injustice caused to the citizens of undemocratic countries. Again expert literature is equally abundant on this subject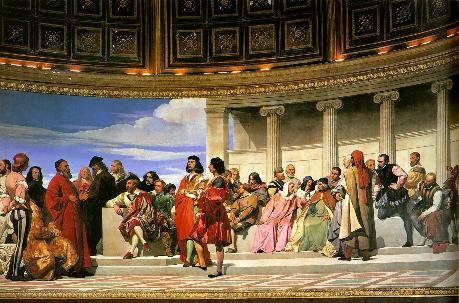 and there is no need to add more on this subject in this webpage. In other words, most countries now, most of the democratic ones and most of the undemocratic ones, are so flawed that they do not meet the ideals, not even the basic objectives, that are theoretically at the foundation of an organization like the UN for the purposes of the best management of world affairs. The meritocratic spirit and values animating an EthoCracy, reinforced by the new Informative Power of its Syntagma, can help tremendously to ensure that only the best representatives of both democratic and undemocratic countries are allowed to reach prominent positions of leadership in an organization like the UEN (just like it happened through the influence of the famous Hemicycle School of Pythagoras shown to the right, in the government institutions it reformed in many excellent cities, kingdoms and republics for few centuries, starting some 2500 years ago). Someone has already suggested to recreate the UN, and rename it the UDN (United Democratic Nations), but that is too much to ask to most of its undemocratic members, as they would not be able to meet its definition nor its entry standards, at least not in the short term. One could then suggest to call it UMN (United Meritocratic Nations). This would probably facilitate somehow the admission of many undemocratic countries, as a country can probably be quite meritocratic without necessarily be fully democratic. It would also force the democratic countries to correct some of their main flaws and become more worthy, through the choice of more meritocratic representatives, for sitting in prominent positions of power, like the main ones at an organization like the UN. This could theoretically be a good middle-way position, and maybe force both undemocratic and democratic countries to improve themselves, at least look more honorable, and become somewhat more effective and more fair in attempting to manage world affairs and resolve world problems. However, in our present culture, the words "Meritocratic" and "Meritocracy" are pretty much annoying to many people as they often have a derogatory meaning, or connotation, of inequality, ugly social elitism, even sometimes of an idealistic utopia, let alone being concepts that define vague objectives that are difficult to pinpoint in practical terms. In front all these difficulties, it becomes quite clear that all the practical government reforms mentioned above, in the EthoCracy Reforms Package, even taken as a package, are no utopia at all. They certainly require a drastic change in mentality that might be difficult to accept at the beginning, as they disturb many well established interests, let alone the privileges of a huge caste, but they are quite feasible. The best part is that they can also be adapted quite well, and quite easily, with some reasonable progressive flexibility, to satisfy the needs of improvement of both democratic and undemocratic countries now sitting in the UN. The package can certainly help improve the management of all countries quite drastically in many ways, without the democratic ones loosing all of their present liberal pluralism and without the undemocratic ones loosing all of their present authoritarian power. With such compromise, with EthoCracy, both sides can certainly improve quite substantially. If both the democratic and the undemocratic nations follow the suggestions of the EthoCracy Reforms Package, they can both collaborate strongly in creating a new era of "Better Decorum, More Merit and Planet Oneness Responsibility" (the EthoPlasìn logo). Both sets of countries, the democratic and the undemocratic ones, can then become, or be proactively in their way to become, an "EthoCracy". A new UN recreated for pursuing these objectives can then be renamed UEN (United EthoCratic Nations) and finally be in a much better position to resolve world problems more fairly, not to say manage world affairs more honorably, and bring more justice, more ethics and more peace to most world populations, thus more happiness to a growing number of people on our beautiful Planet Earth. Such a world would probably not be a paradise, but it would certainly be a much better world, managed by much better world leaders. From our point of view, it would become a New Era of EthoCracy finally come true, led honorably, in the best possible way, by a new UEN.
From a Planet Oneness Perspective - The EthoPlasìn logo at the base of the EthoCratic philosophy is: "Better Decorum, More Merit and Planet Oneness Responsibility". From a sense of Planet Oneness Responsibility, the new Fundamental PhiloEcoSophical Law (FPL) mentioned above ensures the very best possible effort of each country for the preservation of our beautiful Planet Earth in its best possible state, not only from an ecological point of view, but from the perspective of all living environments, subject to extremely severe penalties.
From the Perspective of Democracy - An EthoCracy is authoritarian in some ways but also more democratic than any other regime, with real direct democracy at its best, and the possibility of its governing power being lost as easily, and as quickly, as it was gained. An EthoCratic regime appears, at first glance, to be quite authoritarian, and it is. Authoritarian, but both ways: from both the point of view of the government and from the point of view of the people who elected it and control it like never before. It is authoritarian for example in that it requires a compulsory NEVoC ID with unequivocal biometric features; it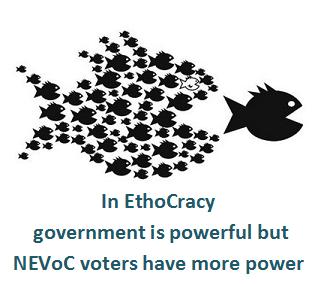 'forces' citizens to vote in all national elections, subject to a fine; It puts into power only powerful governments with an Absolute Majority and full capacity to realize their exact Four-Way Binding Electoral Programs completely undisturbed by the opposition if they so wish; It accepts only legal immigration etc. However, this authoritarian character is perfectly well balanced with democratic means of incomparable force in any modern democracy at the moment. The EthoCratic systems requires a yearly confirmation of a government, subject to an immediate new election, thus putting down a government more easily than in any other system by a kind of spontaneous referendum. It is a Direct Democracy Pushed To The Limit, and consequently it allows more citizens than in any other system to be heard easily at national level in defending their rights and requests. It also has a system of opposition more powerful than ever before, readily open to all citizens who want to take advantage of it, albeit only in an educated civic way, within the new OppositArium, instead of through breaking demonstrations in public streets: an opposition available to even minors, criminals, prisoners or persons with ideas that make them potentially violent individuals, all with granted national media visibility through the relevant TV channels and the Internet. In particular, because of the new 4th power of the state, the Informative Power, citizens can be informed with True Information like never before in any democracy, and consequently take better decisions and vote more easily than ever before. Overall, a clear Four-Way Binding Electoral Program that electors voted for, at full majority, becomes a pledge, a solemn undertaking, to which there can be no deviation. However, if the majority of citizens see that this is not happening, or if they change their mind, they have a chance to change the government expeditiously and sovereignly within maximum one year (at the yearly October confirmation). An EthoCratic system is thus an authoritarian regime but one that can most easily be put down by the authoritarian electors . It is authoritarian both ways, with an efficiency expressed easily like never before. In particular, it is a sort of social contract that certainly has at least one of the best characteristics of the ones defined by Jean-Jacques Rousseau, in that an EthoCratic government is not elected mainly to command and direct people, through all sorts of initiatives and decisions of its own invention during its mandate, but rather mainly to direct the correct execution of the decisions already taken by the people in voting a specific and mandatory winning Four-Way Binding Electoral Program. The government does not command people, it executes a program commanded by the people, lest be defeated efficiently and go home quickly. Politicians can still be leaders, but mainly, if not only, at the time of the formulation of the program they want approved through an election. Once his program is approved by an election, the political leader who formulated it is not a real leader anymore, but mainly an efficient and competent executing director. It boils down to the fact that if EthoCracy is authoritarian, and it is, it is less from the point of view of the government, and more from the point of view of the citizens controlling their government actions better than never before, in particular in light of the True Information provided to all citizens by the new Informative Power of its new Syntagma constitution. In turn, politicians have an easier time than ever before. Once having their program approved they can, more freely than ever before, be the serene executors of that program without the undue and destructive interference, most of the time, of the ugly politics of our so-called contemporary representative "democracies". This is EthoCracy!
From a Social Perspective - As seen in the above Package of 30 Reforms, an EthoCracy wants to restore our society on its best traditional values, or the values on which our western civilization is founded, the ones we have inherited from the best tradition of philosophy that goes from Pythagoras and Plato, and that was kept alive for centuries after them, really until today, but through various cycles of weakness and reinforcement. Right now, in particular since the pseudo revolution of 1968, as seen in our Background Page, we are in a cycle of real weakness, and we must reinvigorate a new cycle of reinforcement, as these values are universal and eternal in their intrinsic nature and worth. We are talking about ethics, merit, justice, beauty, goodness, decorum, moderation and a strong sense of oneness solidarity, first as a family, then as a country, and in the end as a planet. The first and main tool to restore these philosophical values is a reformed education based on these values, implementing fully the principle of merit and the formation of the full Tetractys of students in a holistic way. This is what the EthoPlasìn Academy wants to do, and the type of education it wants to spread around the world as much as possible. Without this basic type of holistic and meritocratic education being implemented, the rest of the reforms meant to improve our democracies and social environments, like the above Package of 30 Reforms, is nearly impossible to implement. Education however is not only a school affair, but also an integrated family affair. This is why the above Package of 30 Reforms gives outmost importance to the strengthening of happy harmonious families, in particular extended families. After school education, it is family harmony and solidarity that is the second main tool for a restoration of our best traditional values. Regarding the families, there are two main reforms, regarding the the Extended Family Business (EFB), and the Extended Family Unit (EFU) that come into play to help them. If however someone combines an EFB and an EFU together, with their cumulative benefits, it becomes an EFBEFU, that forms an incredibly powerful tool for the reformation and reinforcement of a society in an EthoCratic way. Of course, all the other reforms also bring cascading effects for the improvement of our social environment, including the last one, to long for, that is the teaching of the EthoGloso language that would not only facilitate perfect communication as an IAL, at national, international and world levels, but also help reinforce the quality of the national language of each citizen in his own country and social environment.
EthoCracy as a Dream Come True? Why not? - Dreaming is good, especially when the dream is not only beautiful but also perfectly achievable. The difficulties involved in realizing the dream of EthoCracy, at national and international levels, are not only all surmountable, but they also offer a
fascinating and positive challenge, that can bring an immense joy to all its pursuers, and immense benefits to all the citizens of the countries involved in the process, let alone humanity as a whole. Looking at the package of the 30 proposals of reforms mentioned above, and reflecting carefully on them, the benefits of this so-called EthoCracy Reforms Package are so immediately obvious, and so vitally important, that once known, and well publicized, they will be readily picked-up, pursued, and even proactively demanded, as necessary reforms, by thousands of sympathizers around the world. The current corrupted politicians, and the privileged and useless caste fed by the present system, will certainly strongly resist and oppose the package, attempting to ridicule its feasibility and its importance, but the thousands of enthusiasts, worldwide, will soon force them to change their mind, or else be phased out or checkmated by the reformers. In addition, considering the philoecosophical aspects alone of the EthoCratic Package, it is also obvious that a new EthoCracy Era will most likely spare beautiful Planet Earth from having to face at least the worst of the various catastrophic scenarios that exist about its survival in the coming generations, and hopefully bring in a new type of more peaceful and happier world that we, sometimes, wishfully like to call EthoLandia. This will be an era, and a world, of "Better Decorum, More Merit and Planet Oneness Responsibility", as per the EthoPlasìn logo, with more True Information and meritocratic justice for all human beings: still not a perfect world, but nevertheless a perfectly feasible and highly meaningful improvement! It is certainly a beautiful objective and, even if that objective is not reached quickly nor easily, for those engaging in its pursuit, it is a beautiful path to walk through on the way there!